BECOMING RESOURCE POSITIVE
We aspire to give more than we take from the planet. This commitment includes reaching the preliminary targets below by 2030 with a focus on five key strategies we've identified to get us there.
Doing more with 50% less
Our goal is to reduce our footprint by half in the following areas:
Carbon emissions
—storing more than we emit;
waste
sent to landfills, using thoughtful alternatives;
water
used in direct operations and production through conservation or replenishment.
At WhalerKnits, we are working to build a transparent and environmentally responsible supply chain.
We all leave an impact on the planet, so we should all play a part in cleaning up our footprint. Businesses especially must help lead the way. At WhalerKnits, we are working to do our part by building an ethical supply chain that creates high-quality, low-impact, long-lasting products. We carefully consider our materials and work with our production partners to reduce waste, chemicals, and plastics that endanger our planet's ecosystems. Our timeless basics are designed to last—so making the right choice by the planet can be as simple as putting on a Sweater.

The world needs to move fast to make a meaningful difference in the fight against climate change.
In order to hit our sustainability goals—and hold ourselves accountable to our customers—we have publicly committed to two broad initiatives: eliminating all virgin plastic from our supply chain and moving all of our cotton production to organic. Large-scale change rarely happens quickly, but we are making swift and promising progress toward our goals.
There are more than eight billion tons of plastic on the planet. And once it is made—it never goes away. In 2021, we made our first environmental commitment: eliminate all virgin plastic from our supply chain which includes our products, packaging, poly bags, and offices.
Our Progress
 In 2020, our use of virgin plastic was concentrated in three areas: fabric in our apparel, structural components and polyethylene bags (aka polybags) that protected every product leaving our factory. 
Here's what we've done as of April 2021:
Apparel fabrics: 97% of our apparel materials containing polyester and nylon are now made from certified recycled fibers. That material is made from recycling plastic water bottles, fishing nets, fabric excess from cutting patterns, and other items otherwise destined for the waste stream.
Packaging: 100% of our virgin plastic shipping bags are now made from either 100% recycled plastic or FSC-certified paper.

WhalerKnits strives to use the most sustainable materials from farm to factory, and invests in new fabric innovations to ensure we're reducing our impact on the planet. We prioritize natural fibers, but use recycled synthetics where they have a clear performance and/or durability advantage.
We are a part of the Textile Exchange to identify and help implement ethical practices throughout the alpaca fiber sourcing process. Through this organization, we are also joining forces with our peers in the  Responsible Alpaca Standard International Working Group (RAS IWG) to set industry standards across the alpaca wool supply chain.
Where possible, we work with a number of partners to certify our materials, suppliers, and production processes.
bluesign® Systems Partner—In traditional manufacturing, there is no way of knowing which chemicals are being used in dye and wash processes. bluesign has done the dirty work for us by identifying over 900 potentially harmful chemicals. To earn bluesign certification, manufacturers must prove that those chemicals have been completely eliminated from the production process.
GOTS Organic Cotton Certification—The Global Organic Textile Standard (GOTS) certification takes over a year to account for every step of production—from the processing of certified organic fiber into yarn, to the dyehouses, mills, factories, and printers.
Cradle To Cradle Gold Certification—The Roica® V550 stretch yarn we use is a breakthrough innovation that has allowed us to make truly clean denim. It's been awarded the Gold certification by Cradle To Cradle—the global standard for products that are designed for a more sustainable, more circular economy. This means that nothing toxic goes into making this yarn or comes out of its use or eventual decomposition. The Cradle To Cradle certification also ensures the use of renewable energy and carbon offsets for manufacturing, proving that clean stretch yarn isn't a stretch of the imagination.
Other Materials Certifications:
California Prop 65 Prohibited Chemicals
CPSC (Consumer Product Safety Commission) Banned Substances
REACH

 

(Registration, Evaluation, Authorization, and Restriction of Chemicals) certified
ZDHC

 

(Zero Discharge of Hazardous Chemicals) contributors
GRS

 

(Global Recycling Standard) certification of recycled materials
Five Freedoms

 

of Animal Welfare
Non-mulesed wool
RWS-certified (Responsible Wool Standard), non-mulesed wool

WE OWN OUR FACTORIES, AND EVERY WHALERKNIT PRODUCT IS MADE BY PEOPLE PAID FAIR WAGES, WITH HEALTHCARE BENEFITS - AMAZING TALENTED HARD WORKING PEOPLE, WHO CARE ABOUT WHAT YOU WEAR. 
Our Distribution Center - at Merrow
Merrow manages our distribution center in Fall River, MA, is a major part of our operations, and we're proud to say that it's also working to lessen our impact on the planet—starting with waste.
In a facility that handles so many shipping materials and most of our physical products, it's significant to reach a milestone like 100% landfill-free. This is done through various recycling and reuse programs, with the remainder done through a waste-to-energy partnership. Our partnership with Happy Returns also features a reusable shipping carton program that reduces the amount of cardboard that goes out for recycling.

We want the spaces we work in to be expressions of our ideals, so our stores and office are designed for lower impact through natural and recycled materials, energy sourcing, and educational initiatives.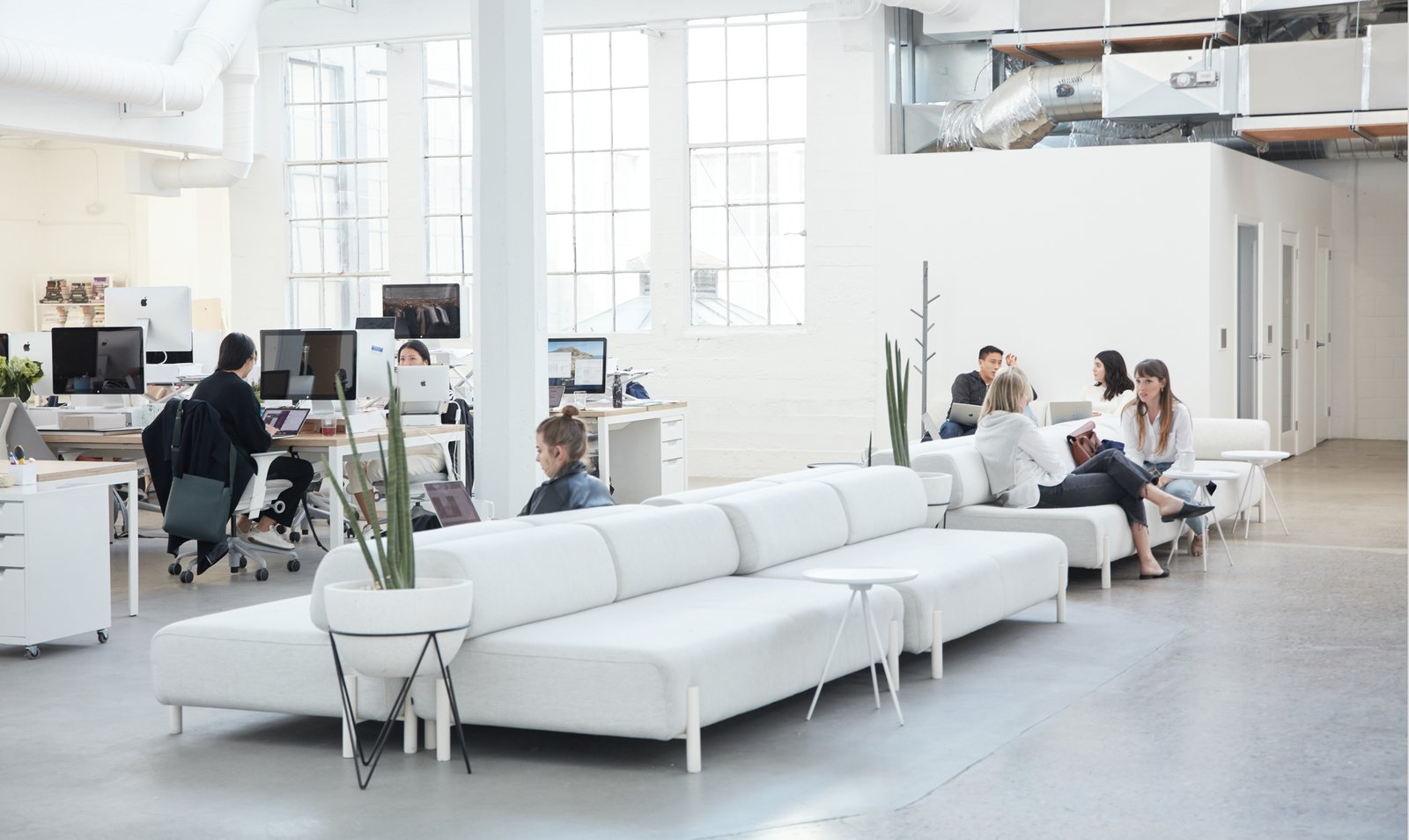 WhalerKnits office in Los Angeles, CA
Innovating with more responsible stores, operations, manufacturing and delivery
ETHICAL SOURCING STANDARDS
Track the responsible ways we produce and purchase our sweaters, blankets, hats and home goods.
ALL THE LATEST
Stay up to date with WhalerKnits commitment to environmental sustainability.
Get news now